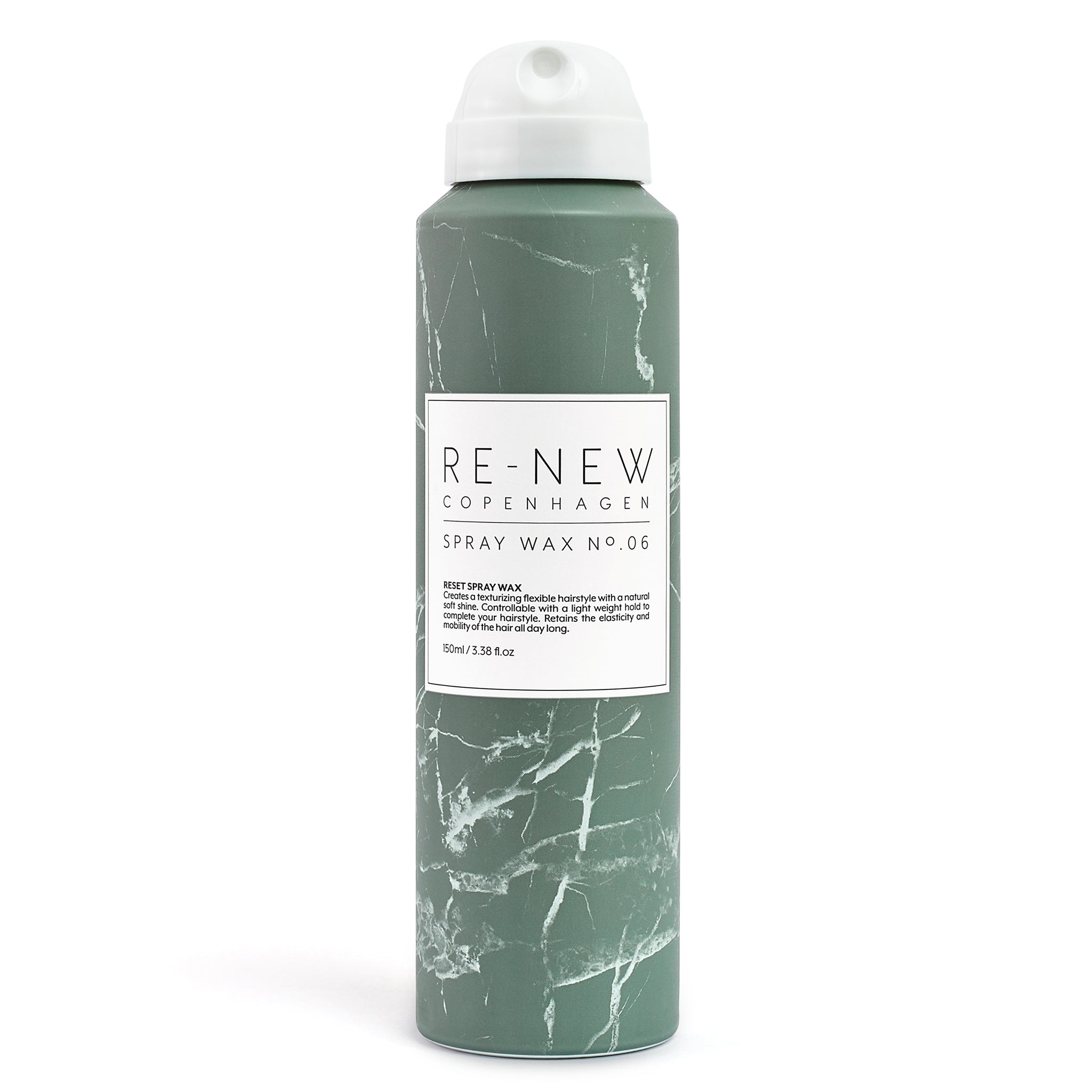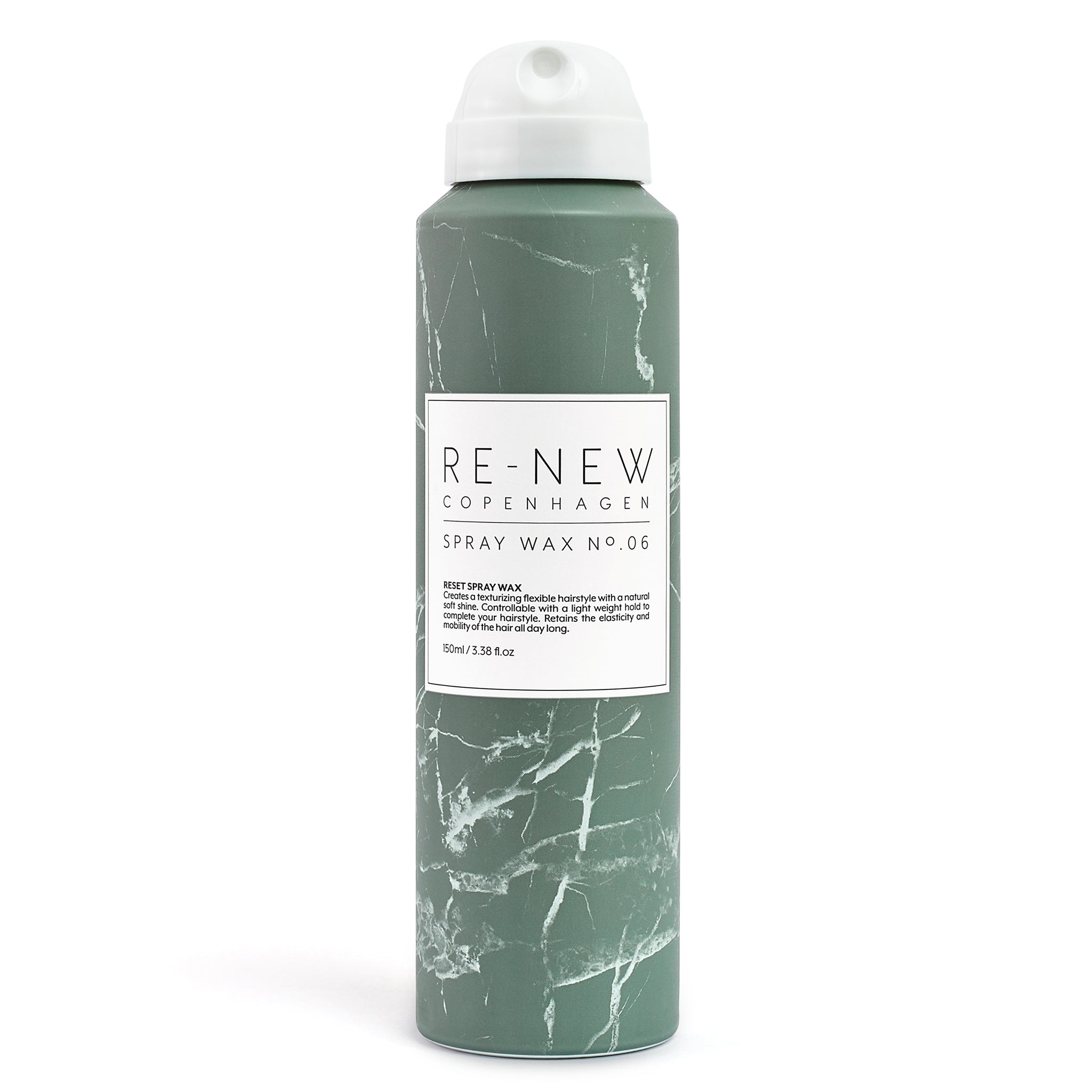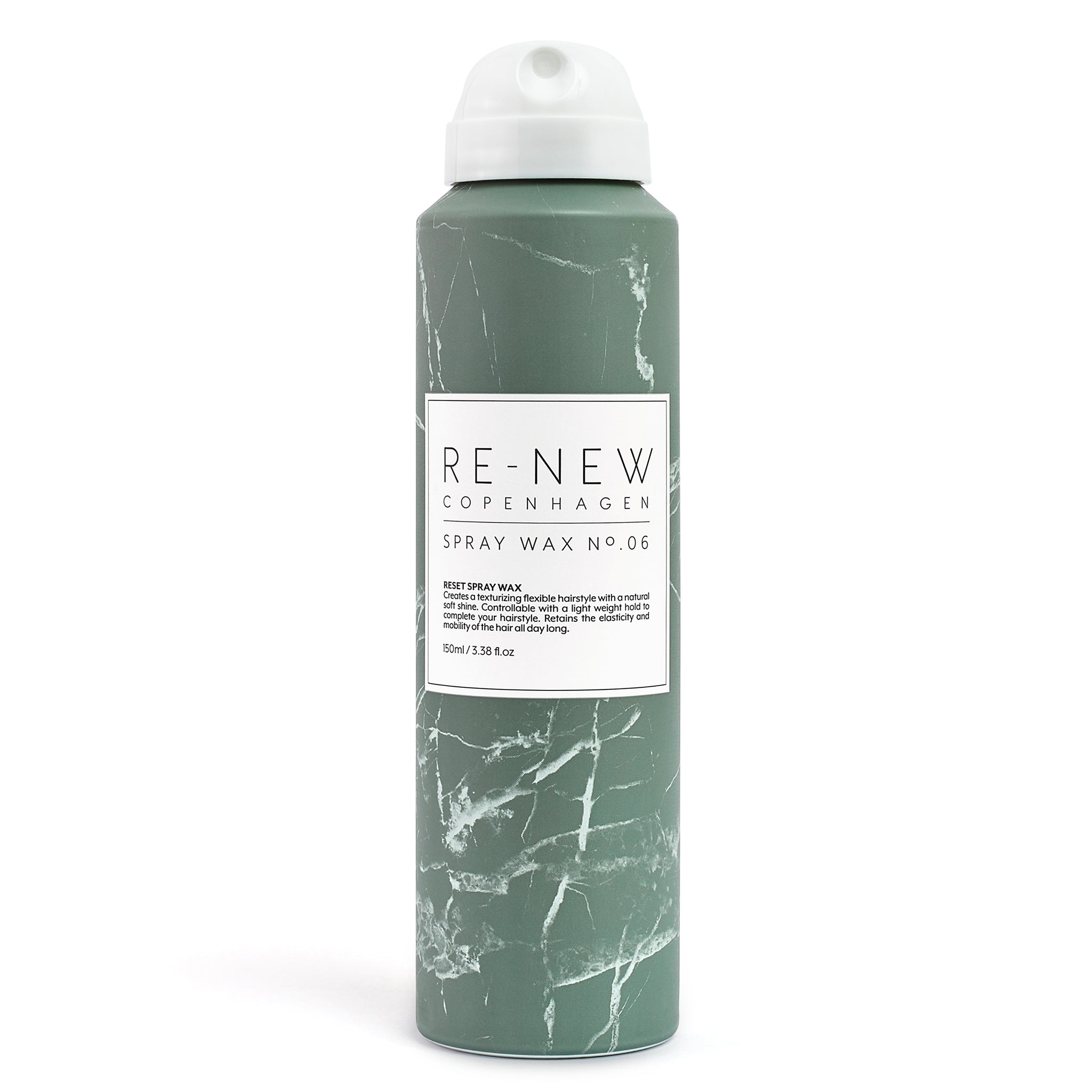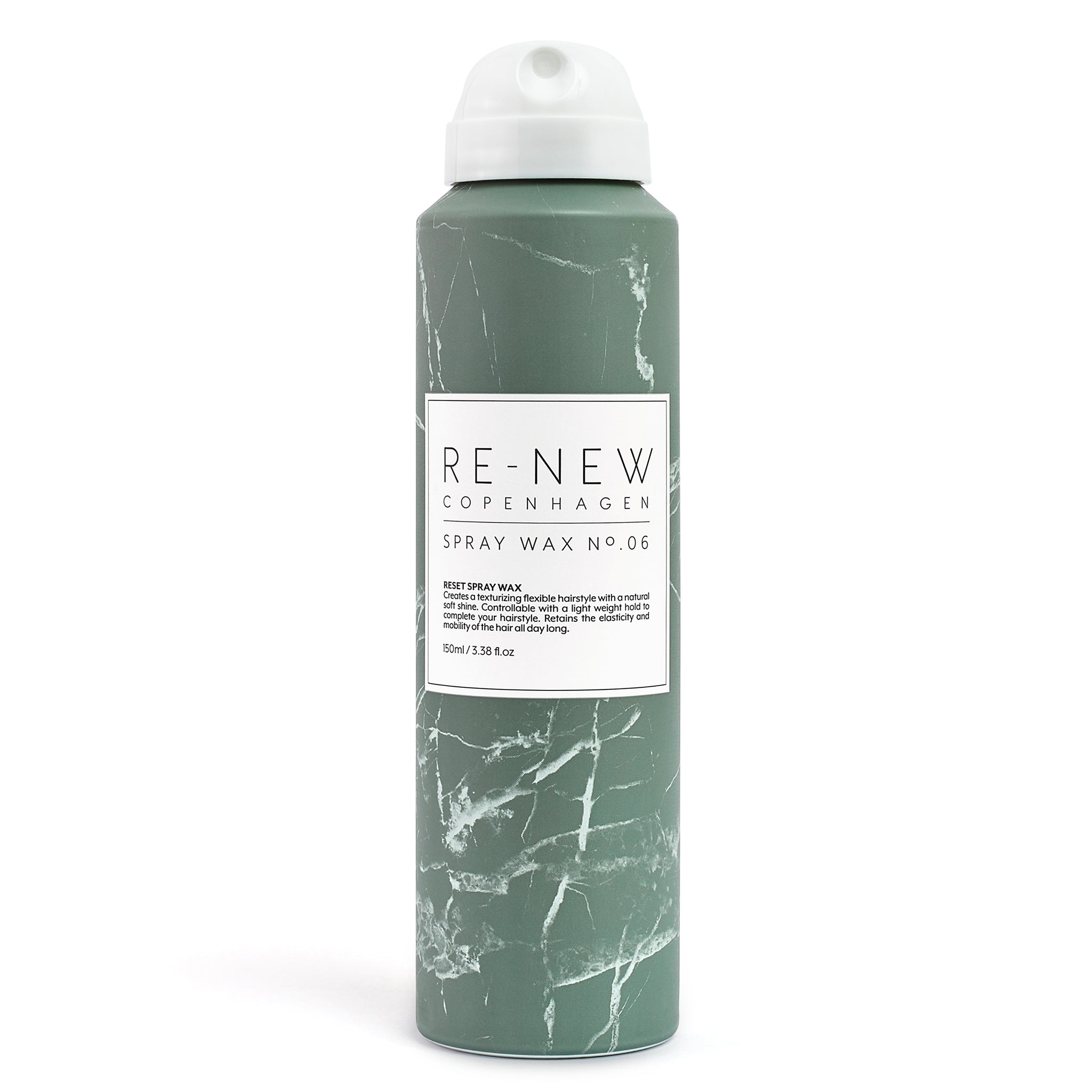 A Reset Spray Wax with light hold and soft shine for all hairtypes. 
The Spray Wax from Re-New Copenhagen is ideal for creating texturizing and flexible hairstyles with a natural and soft shine and a light hold and texture. It retains the elasticity and mobility of the hair all day long. This product is moisture resistant, controllable and  brings a soft shine to the look. 
Suitable – for all hair types and textures.
Spray into dry hair with a distance of 15-20 cm. The product is especially good for fine hairtypes as the spray wax gives a light hold and a natural shine without weighting own the hair.
・For all hair types - long to short
・Unisex
・Gives texture
・Creates a flexible style
・Preserves elasticity
・Gives control
・Light hold and shine
Dimethyl Ether, Alcohol Denat., PEG-8, Aqua, VP/VA Copolymer, PEG-32, Hydrated Silica, PEG-40 Hydrogenated Castor Oil, Panthenol, Citric Acid, Parfum, Hexyl Cinnamal, Linalool, Limonene, Citronellol, Coumarin.
LOOKS
Spray Wax N° 06
Spray Wax No. 06 is for all hair types and lengths. It creates a light hold with good control.

The wax can be used to define curls, create a sleek look, and provide a light hold—all without weighing down the hair.
Spray Wax N° 06
More about
Achieve texture, flexibility, and natural shine in your hair with our Spray Wax. Re-New Copenhagen presents a spray wax that provides you with light hold and the perfect finish. Create different hair styles and set your hair exactly as desired with ease. Our Spray Wax No. 06 is suitable for all hair types and lengths, but is especially ideal for fine hair that requires a light hold without weighing it down. Add structure and subtle shine to your look and enjoy the freedom our spray wax provides.
our certifications
VEGAN FRIENDLY
Animal welfare is important for Re-New Copenhagen. Therefor all our products are 100% vegan friendly and does not contain any animal- ingredients, animal-derived ingredients or by-products.
CRUELTY FREE
Cruelty-Free is a label for products that do not harm or kill animals in the world. Product tested on animals or made from animals are not considered the Cruelty-Free label. All products from Re-New Copenhagen are Cruelty-Free.
PLANT A TREE
Re-New is committed to supporting environmental surroundings from the North European forest. We believe that we can bring a soft footprint on the planet by planting a tree to create a soft balance with nature. For every tenth purchased product from Re-New, we are planting a tree in Denmark on your behalf.

SULFATE FREE
Sulfate is standard in many hair products because of its way to turn the products into a thick lather. But did you know, that sulfate can cause dryness and damage to your hair? We have replaced the sulfates with natural ingrediens that leaves you hair with hydration and increase its natural shine.
NO MICROBEADS
Microbeads are small, solid plastic particles found in many beauty- and hair products. Mircobeads does not cause any harm on you and your skin, but when these particles are washed down the sink, the non-biodegradable substances cannot be filtered and end up settling into the groundwater. Therefor products from Re-New Copenhagen does not contain any mircobeads.
RECYCABLE
Because we care about the nature and the environment, our packaging is recyclable. The boxes you get your products in is made of 80% of recyclable material.